The Rest Of The Best Sports Movies
Here are our the remainder of the Best Sports Movies that we didn't put into any particular group. See how our selections match your picks for the best. If you disagree with the list, please feel free to show us your best sports movies by going to
YOUR List
and sending us your picks. We will be happy to include your list on our pages.
Sit back, relax and browse the rest of the Best Sports Movies ever made.
1.
Hoosiers (basketball)
(1986, Directed by David Anspaugh)
2.
Miracle (hockey)
(2004, Directed by Gavin O'Connor)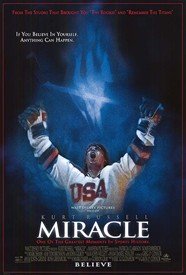 3.
Seabiscuit (horse racing)
(2003, Directed by Gary Ross)
4.
The Legend Of Bagger Vance (golf)
(2000, Directed by Robert Redford)
Rannulph Junuh is Savannah, Georgia's favorite son takes on Bobby Jones and Walter Hagen, the best golfers of the era, in a four round two day exhibition match.
5.
Coach Carter (basketball)
(2005, Directed by Thomas Carter)
6.
Glory Road (basketball)
(2006, Directed by James Gartner)
7.
The Rocket (hockey)
(2005, Directed by Charles Biname)
8.
Breaking Away (cycling)
(1979, Directed by Peter Yates)
9.
National Velvet (horse racing)
(1944, Directed by Clarence Brown)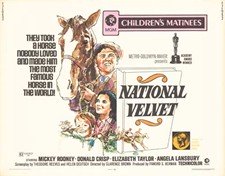 10.
The Greatest Game Ever Played (golf)
(2005, Directed by Bill Paxton)
Golfer Francis Ouimet, an amateur who was expected to fare poorly at the 1913 U.S. Open, and who was supposedly incapable of competing against professionals, get a chance to play in the U. S. Open.
11.
Slap Shot (hockey)
( 1977, Directed by George Roy Hill)
A hockey team, which is a perennial loser and in financial trouble due to mill closings in the town, is due to be folded at season's end. Through the course of regular business, the team picks up the Hanson Brothers, violent goons with child-like mentalities.
12.
Tin Cup (golf)
(1996, Directed by Ron Shelton)
235 yards in 12 shots, now that's my kind of golfing.
13.
Caddyshack (golf)
(1980, Directed by Harold Ramis)
Danny Noonan works as a caddy at the upscale Bushwood Country Club, where he earns tips to add to his meager college fund.
14.
Chariots Of Fire (olympics)
(1981, Directed by Hugh Hudson)
Based on the true story of British athletes preparing for and competing in the 1924 Summer Olympics.
15.
8 Seconds (bull riding)
(1988, Directed by John Avildsen)
Film about rodeo legend and world bull riding champion Lane Frost. The film details his life from his youth learning how to ride bulls, until his death in 1989.
16.
Victory (soccer)
(1981 Directed by John Huston)
A film about Allied prisoners of war who are interned in a German prison camp during World War II.
17.
The Hustler (pool)
(1961, Directed by Robert Rossen)
A small-time pool hustler "Fast Eddie" Felson and his desire to prove himself the best player in the country by beating legendary pool player "Minnesota Fats."
18. Rad (cycling) (1986, Directed by Directed by Hal Needham)
Talia Shire (Adrian from Rocky) stars as the mother of a young BMX racer who is faced with racing or taking his college SATs.
19.
Rebound: The Legend Of Earl 'The Goat' Manigault (basketball)
(1996, Directed by Eriq La Salle )
After high school, Manigault was courted by at least 75 colleges offering scholarships, including North Carolina, Duke and Indiana. Probably the greatest basketball player that you
never
heard of.
20.
Goal! The Dream Begins (soccer)
(2005, Directed by Danny Cannon)
Santiago Munez at night works as a busboy in a Chinese restaurant. He also plays soccer for a small local team and is given a chance to play professionally.
21.
Hoop Dreams (basketball)
(1994, Directed by Steve James)
Documentary film that follows the story of two black high school students in Chicago and their dream of becoming professional basketball players.
22.
The Karate Kid (karate)
(1984, Directed by John G. Avildsen)
Teenager Daniel LaRusso moves with his mother from New Jersey to the San Fernando Valley region of Los Angeles, California.
23.
Olympia (olympics)
(1938, Directed by Leni Riefenstahl)
Olympia is a film documenting the 1936 Summer Olympics, held in the Olympic Stadium in Berlin. It was the first documentary film on the Olympic Games ever made.
24.
Big Wednesday (surfing)
(1978, Directed by John Milius)
This film is loosely based on a short story that was first published in a surfer magazine. The picture is abbout three California surfers facing life, the Vietnam War, and use of the ever changing surf as a symbol of life changing.
25.
Kingpin (bowling)
(1996, Directed by Josh Klausner, Peter Farrelly, Bobby Farrelly)
Bill Murray as Ernie McCracken gives an excellent performance as an egotistical womenizing bowling adversary to Woody Harrelson (Roy Munson).
26.
Rounders (poker)
(1998, Directed by John Dahl)
Matt Damon and Edward Norton play big stakes Texas hold-em at all costs.
27.
Vision Quest (wrestling)
(1985, Directed by Harold Becker)
A wrestler wants to compete at a weight class that is lower than his normal wrestling weight so that he can wrestle the undefeated state champion.
28.
Finding Forrester (basketball)
(2000, Directed by Gus Van Sant)
A Pulitzer Prize winning novelist befriends an aspiring writer who is also the basketball teams promise for a state championship.
29.
Searching For Bobby Fischer (chess)
(1993, Directed by Steven Zaillian)
Film based on the life of prodigy chess player Joshua Waitzkin. Josh Waitzkin's family discovers that he possesses a gift for chess and they seek to nurture it.
30.
Dogtown And Z-Boys (skateboarding)
(2002, Directed by Stacy Peralta)
This documentary tells the story of a group of teenage surfer/skateboarders and their influence on the history of skateboarding. Can you say Tony Hawk?
31.
White Men Can't Jump (basketball)
(1992, Directed by Ron Shelton)
Woody Harrelson's character is a talented former college-level basketball player who makes a living hustling streetball players who assume he cannot play well because he is white.
32.
Rollerball (skating)
(1975, Directed by John McTiernan)
A futuristic game where you had to give the ultimate to win, your life.
33.
The Endless Summer (surfing)
(1966, Directed by Bruce Brown)
Surfers travel the world in search of the perfect wave.
34.
One Day In September (olympics)
(2002, Directed by Kevin MacDonald)
September 1972 at the Olympic Games in Munich, eight terriorists take Israeli athletes hostage. Watch as the German government botches the entire fiasco.
35.
Bend It Like Beckham (soccer)
(2003, Directed by Gurinder Chadha)
Can girls play soccer? Just watch "Jesse" and then form your own opinion.
36.
The Color Of Money (pool)
(1986, Directed by Phil Marco and Martin Scorsese)
Fast Eddie is back only this time he has a prodigy that he must train to be the "hustler".
37.
Pumping Iron (bodybuilding)
(1977, Directed by George Butler and Robert Fiore)
(Governor) Arnold Schwarzenegger ("I'll be back") and Lou Ferrigno (The Incredible Hulk) are among the bodybuilders featured in this 1977 documentary film about the run-up to the 1975 Mr. Olympia bodybuilding competition.
38.
Space Jam (basketball)
(1996, Directed by Joe Pytka)
You just gotta have this one on
YOUR List
somewhere. Bugs Bunny, Michael Jordan, Daffy Duck, what a cast.
39.
Mystery, Alaska (hockey)
(1999, Directed by Steve Boyum and Jay Roach)
David against Goliath in the hockey rink. I think we may have another movie like this in our countdown.
40.
Goal! 2: Living The Dream (soccer)
(2007, Directed by Jaume Collet-Serra)
The second in the trilogy Goal! We just hope the third one is as good as the first.
41.
He Got Game (basketball)
(1998, Directed by Spike Lee)
What can you say about this movie? Denzel Washington is the man. Add the basketball talent of Ray Allen and the imagination of Spike Lee and you've got a winning comibination for a sports movie.
Basketball Movies
Above The Rim
(1994)
Air Up There (1994)
Annie-O (1995)
Basketball Diaries
(1995)
Believe In Me
(2006)
Blue Chips
(1994)
Celtic Pride
(1996)
Coach Carter
(2005)
Crossover
(2006)
Double Teamed (2002)
Eddie
(1996)
Fast Break (1979)
Finding Forrester
(2000)
Fish That Saved Pittsburgh, The (1979)
Glory Road
(2006)
Guarding Eddy (2004)
He Got Game
(1998)
Heaven Is A Playground
(1991)
Home Of The Giants (2007)
Hoosiers
(1986)
Like Mike
(2002)
Like Mike 2: Streetball
(2006)
Love & Basketball
(2000)
Luck Of The Irish (2001)
O
(2001)
One On One
(1977)
Passing Glory
(1999)
Pistol: The Birth Of A Legend
(1991)
Rebound
(2005)
Rebound: The Legend of Earl 'The Goat' Manigault
(1996)
Red Sneakers, The (2002)
Semi-Pro
(2008)
Sixth Man, The (1997)
Space Jam
(1996)
Sunset Park
(1996)
Teen Wolf
(1985)
White Men Can't Jump
(1992)
Golf Movies
"Amazing Sports Stories" Mysterious Montague: Golf's Greatest Con Man (2008)
Bobby Jones, Stroke Of Genius
(2004)
Caddyshack
(1980)
Caddyshack II
(1988)
Dead Solid Perfect (1988)
Gentleman's Game, A
(2001)
Greatest Game Ever Played, The
(2005)
Happy Gilmore
(1996
Legend Of Bagger Vance, The
(2000)
Miracle On The 17th Green (1999)
Pat And Mike
(1952)
Tin Cup
(1996)
Who's Your Caddy?
(2007)
Hockey Movies
"Amazing Sports Stories" Lester Patrick: The Old Man in the Net (2008)
Boys, Les (1997)
Mighty Ducks, The
(1992)
D2: The Mighty Ducks
(1994)
D3: The Mighty Ducks
(1996)
Love Guru, The
(2008)
Miracle
(2004)
Miracle On Ice (1981)
MVP: Most Valuable Primate (2000)
Mystery, Alaska
(1999)
Net Worth (1995)
Rhino Brothers, The (1995)
Rocket, The
(2005)
Slap Shot
(1977)
Slap Shot 2: Breaking The Ice
(2002)
Slap Shot 3: The Junior League
(2008)
Sudden Death
(1995)
Waking Up Wally: The Walter Gretzky Story (2005)
Youngblood
(1986)
Soccer Movies
A Shot At Glory
(2000)
Air Bud: World Pup (2000)
Atletico San Pancho (2001)
Bend It Like Beckham
(2002)
Big Green, The (1995)
Cup, The (1999)
El Portero (The Goalkeeper) (2000)
Fever Pitch
(1997)
Game Of Their Lives, The
(2005)
Goal! The Dream Begins
(2005)
Goal! 2: Living The Dream (2007)
Gracie
(2007)
Great Match, The (2006)
Her Best Move
(2008)
Kicking And Screaming
(2005)
Ladybugs (1992)
Mad About Mambo (2000)
Match, The (1999)
Mean Machine
(2001)
Merry Christmas (2005)
Shaolin Soccer
(2001)
Sixty Six (2008)
Soccer Dog: European Cup (2004)
Soccer Dog: The Movie
(1999)
Soccer Mom
(2008)
Switching Goals
(1999)
Those Glory, Glory Days (1984)
Victory
(1981)
When Saturday Comes (1996)
Yesterday's Hero (1979)
Auto Racing Movies
2 Fast 2 Furious
(2003)
3 - The Dale Earnhardt Story (2004)
Cannonball Run II, The (1984)
Cannonball Run, The
(1981)
Cars (2006)
Dale The Movie (2007)
Days Of Thunder (1990)
Death Race (2008)
Driven (2001)
Fast And Furious (2009)
Fast And The Furious, The (2001)
Fast And The Furious: Tokyo Drift, The (2006)
Grand Prix (1966)
Gumball Rally, The (1976)
Heart Like A Wheel (1983)
Herbie Fully Loaded (2005)
Kart Racer (2003)
Last American Hero, The (1973)
Le Mans (1971)
Miracle In Lane 2 (2000)
Redline (2007)
Six Pack (1982)
Speed Racer (2008)
Speedway (1968)
Stroker Ace (1983)
Talladega Nights: The Ballad Of Ricky Bobby
(2006)
Two-Lane Blacktop
(1971)
Vanishing Point
(1971)
Winning
(1969)
World's Fastest Indian, The
(2005)
Return to Best Sports Movies