Top 25 Football Movies
Here are our Top 25 Best Sports Movies for Football. See how our selections match your picks for the best. If you disagree with the list, please feel free to show us your best sports movies by going to
YOUR List
and sending us your picks. We will be happy to include your list on our pages.
For now though, sit back, relax and browse the top 25 football movies.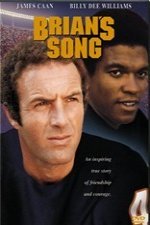 1.
Brian's Song
(1971, Starring James Caan, Billy Dee Williams, Jack Warden)
From Gayle Sayers' book, "I am Third", this made for TV movie is still the #1 football movie on our list.
2.
Remember The Titans
(2000, Starring Denzel Washington, Will Patton, Wood Harris)
We have a soft spot for the underdog in movies that are "based on a true story".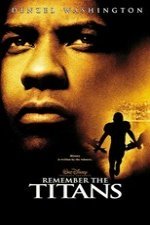 3.
Rudy
(1994, Starring Sean Astin, Jon Favreau, Ned Beatty)
Another real life drama that keeps satisfying our thirst for watching the underdog conquer.
4.
We Are Marshall
(2006, Starring Matthew McConaughey, Matthew Fox, Anthony Mackie)
Not sure why it took thirty plus years for this story to make it to the big screen. There must be other sports movies that haven't been made yet. If you think you know one,
post it here
for the world to see.
5.
Invincible
(2006, Starring Mark Wahlberg, Greg Kinnear, Elizabeth Banks)
A thirty year old bartender gets a shot at making the Philadelphia Eagles roster.
6.
The Long Gray Line
(1955, Starring Tyrone Power, Maureen O'Hara, Robert Francis)
Inspired by the true life story of Marty Maher, Tyrone Power stars as the scrappy Irish immigrant whose 50-year career at West Point saw him transformed from dishwasher to non-commissioned officer and athletic instructor.
7.
Friday Night Lights
(2004, Starring Billy Bob Thornton, Lucas Black, Garrett Hedlund)
The movie documents the coach and players of a high school football team and the Texas city of Odessa that supports and is obsessed with them.
8.
Radio
(2003, Starring Cuba Gooding Jr, Ed Harris, Alfre Woodard)
Based on the true story of T.L. Hanna High School football coach Harold Jones (Ed Harris) and a mentally-challenged young man James Robert "Radio" Kennedy (Cuba Gooding, Jr.).
9.
The Express
(2008, Starring Rob Brown, Dennis Quaid, Darrin Dewitt Henson)
It is based on the life of Syracuse University football player Ernie Davis, the first African American to win the Heisman Trophy.
10.
The Longest Yard
(1974, Starring Burt Reynolds, Eddie Albert, Ed Lauter)
This is our first football film that is not based on a true story, but it could be. It is about inmates at a prison who play football against their guards.
11.
North Dallas Forty
(1976, Starring Nick Nolte, Mac Davis, Charles Durning)
Nolte plays the aging wide receiver, Phillip Elliott, who is struggling to stay competitive and relies heavily on the use of painkillers.
12.
Horse Feathers
(1932, Starring the Marx Brothers)
Groucho plays Quincy Adams Wagstaff, the new president of Huxley College, and Zeppo is his son Frank, who convinces his father to recruit professional football players to boost the Huxley team's chance of winning.
13.
Heaven Can Wait
(1979, Starring Warren Beatty, Julie Christie, James Mason)
An over-anxious guardian angel on his first assignment (Buck Henry) plucks Joe (Warren Beatty) out of his body early in the mistaken belief that his death is imminent, and Pendleton arrives in the afterlife.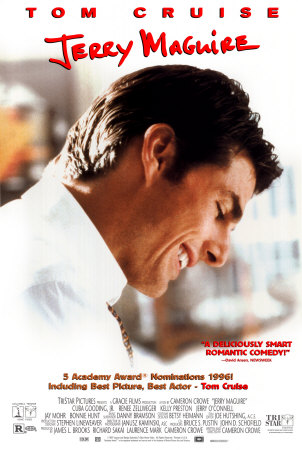 14.
Jerry Maguire
(1997, Starring Tom Cruise, Cuba Gooding Jr, Renée Zellweger)
Tom Cruise as a top athletic agent who speaks out against greed in sports...and is promptly fired.
15. The Freshman (1925, Starring Harold Lloyd, Jobyna Ralston, Brooks Benedict)
The Freshman is a 1925 comedy film that tells the story of a college freshman trying to become popular by joining the school football team.
16.
Jim Thorpe, All-American
(1951, Starring Burt Lancaster, Charles Bickford, Steve Cochran)
Burt Lancaster delivers a fine performance as Thorpe, who battled alcoholism, fought prejudice and saw his medals taken away from him when the Olympic Committee discovered he played semi-pro sports.
17.
Gridiron Gang
(2006, Starring Dwayne Johnson, Xzibit, L. Scott Caldwell)
Based on a true story, this inspirational drama stars Dwayne "The Rock" Johnson as a probation officer at a California juvenile detention camp.
18.
All The Right Moves
(1983, Starring Tom Cruise, Craig T. Nelson, Lea Thompson)
All Tom Cruise wants to do is get a scholarship so he can get away from the steel mills as his future.
19.
The Replacements
(2000, Starring Keanu Reeves, Gene Hackman, Brooke Langton)
oach Gene Hackman recruits a colorful assortment of has-been and never-were players to take to the gridiron for the pro Washington Sentinels during a labor walk-out.
20.
The Junction Boys
(2002, Starring Tom Berenger, Fletcher Humphrys, Ryan Kwanten)
"Bear" Bryant's brutal, boot camp methods pushed his players to their limits in order to turn them into winners.
21.
Knute Rockne, All American
(1940, Starring Pat O'Brien, Gale Page, Ronald Reagan)
Rockne's life, from his discovery of football during childhood and his fleeting attempt to follow an academic path to his invaluable contributions to the sport.
22.
Any Given Sunday
(1999, Starring Al Pacino, Cameron Diaz, Dennis Quaid)
Veteran quarterback Dennis Quaid finds his spot threatened by flashy backup Jamie Foxx.
23.
Brian's Song
(2002, Starring Sean Maher, Mekhi Phifer, Paula Cale)
Re-make of the 1971 classic by the same name. Good enough to be in the top 25 footbal movies of all time.
24.
Leatherheads
(2008, Starring George Clooney, Renée Zellweger, John Krasinski)
In an interview on The Late Show with David Letterman, Clooney mentioned the plot is loosely based on George Halas's signing of University of Illinois football star Harold "Red" Grange.
25.
Waterboy
(1998, Starring Al Pacino, Cameron Diaz, Dennis Quaid)
Adam Sandler plays Bobby Boucher (pronounced "Boo-SHAY"), a socially inept (but also intelligent), stuttering, water boy with anger issues due to constant teasing and his mother's (Kathy Bates) excessive sheltering.
Alphabetical List of All Football Movies
Air Bud: Golden Receiver (1998)
All The Right Moves
(1983)
"Amazing Sports Stories" Ben Malcolmson: The Write Stuff (2008)
"Amazing Sports Stories" The Steagles: When Rivals Became Teammates (2008)
Angels In The Endzone (1997)
Any Given Sunday
(1999)
Best of Times, The (1986)
Brian's Song
(1971)
Brian's Song
(2002)
Code Breakers (2005)
Comebacks, The
(2007)
Everybody's All-American (1988)
Express, The
(2008)
Facing the Giants
(2006)
Fighting Back (1980)
The Freshman (1925)
Friday Night Lights
(2004)
Full Ride (2001)
Fumbleheads (1999)
Game Plan, The
(2007)
Garbage Picking Field Goal Kicking (1998)
Gridiron Gang
(2006)
Halfback of Notre Dame (1996)
Heaven Can Wait
(1978)
Hometown Legend (2002)
Horse Feathers
(1932)
Invincible
(2006)
Jerry Maguire
(1996)
Jim Thorpe, All-American
(1951)
Junction Boys, The
(2002)
Knute Rockne, All American
(1940)
Last Boy Scout, The (1991)
Leatherheads
(2007)
Little Giants (1995)
The Long Gray Line
(1955)
Longest Yard, The
(1974)
Longest Yard, The
(2005)
Lucas (1986)
Necessary Roughness (1991)
North Dallas Forty
(1979)
Paper Lion (1968)
Possums (1998)
Program, The (1993)
Quarterback Princess (1983)
Radio
(2003)
Reggie's Prayer
(1996)
Remember the Titans
(2000)
Replacements, The
(2000)
Rudy
(1993)
Second String, The (2002)
Semi-Tough
(1977)
They Call Me Sir (2001)
Two For The Money
(2005)
Varsity Blues (1999)
Waterboy
(1998)
We Are Marshall
(2006)
Weapons Of Mass Distraction (1997)
Wildcats
(1986)
Windrunner (1995)
Return from the Best Football Movies to Best Sports Movies