Top 100 Sports Movies
Here are our Top 100 Best Sports Movies of all time. See how our selections match your picks for the best. If you disagree with the list, please feel free to show us your best sports movies by going to
YOUR List
and sending us your picks. We will be happy to include your list on our pages.
Over the next several days we will be adding to this list and counting down to the
Best Sports Movie
of all time. Watch as we countdown to #1.
For now though, sit back, relax and browse the top 100.
Let the Countdown Begin
100.
Angels in the Outfield
(1951, Directed by Clarence Brown)
The original Angels movie was a heartwarming movie about sports and grumpy old men and little girls who believed in the supernatural helping the lowly Pittsburgh Pirates. Disney did a remake of this film in 1994 starring Danny Glover.
99.
He Got Game
(1998, Directed by Spike Lee)
What can you say about this movie? Denzel Washington is the man. Add the basketball talent of Ray Allen and the imagination of Spike Lee and you've got a winning comibination for a sports movie.
98.
Diggstown
(1992, Directed by Michael Ritchie)
Rocky and The Sting combined into one film.
97.
Goal! 2: Living The Dream
(2007, Directed by Jaume Collet-Serra)
The second in the trilogy Goal! We just hope the third one is as good as the first.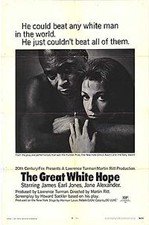 96.
The Great White Hope
(1970, Directed by Martin Ritt)
Wow! The movie and the play took it to the edge in the 1970's with a story of an inter-racial couple and boxing. James Earl Jones at his best.
95.
Chasing 3000
(2007, Directed by Greg Lanesey)
Could you ask for a better journey than following your favorite player around the country waiting for his 3,000 hit? What a life.
94.
Fear Strikes Out
(1957, Directed by Robert Mulligan)
A pushy father is to blame for all the troubles of Jimmy Piersall in this the first of the real life stories on our
Top 100
list.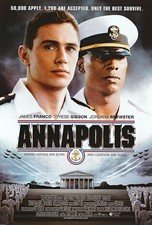 93.
Annapolis
(2006, Directed by Justin Lin)
Local boy going to the Academy and struggling to get acceptance. Has the flavor of the Richard Gere movie, An Officer and a Gentleman.
92.
Any Given Sunday
(1999, Directed by Oliver Stone and Allan Graf)
Team owner (Carmen Diaz) and head coach (Al Pacino) can't agree on the direction the team should go. Have we ever seen this in the sports world before?
91.
Mystery, Alaska
(1999, Directed by Steve Boyum and Jay Roach)
David against Goliath in the hockey rink. I think we may have another movie like this in our countdown.
90.
Space Jam
(1996, Directed by Joe Pytka)
You just gotta have this one on
YOUR List
somewhere. Bugs Bunny, Michael Jordan, Daffy Duck, what a cast.
89.
Knute Rockne All American
(1940, Directed by Lloyd Bacon)
Ronald Reagan lying in bed and asking Knute to have the team "Win one for the Gipper". Who would have known that would be one of the
best sports quotes
of all time?
88.
Pumping Iron
(1977, Directed by George Butler and Robert Fiore)
(Governor) Arnold Schwarzenegger ("I'll be back") and Lou Ferrigno (The Incredible Hulk) are among the bodybuilders featured in this 1977 documentary film about the run-up to the 1975 Mr. Olympia bodybuilding competition.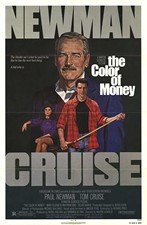 87.
The Pride of St. Louis
(1952, Directed by Harmon Jones)
Baseball movie about St. Louis pitchers Dizzy and Daffy, no not ducks, Dean.
86.
Junction Boys, The
(2002, Directed by Mike Robe)
Only those that could survive Paul "Bear" Bryant's 10 day summer football camp in Junction, Texas where given the name.
85.
The Replacements
(2000, Directed by Allan Graf and Howard Deutch)
Hampered by a players strike, the professional football owners are forced to hire replacement players to continue the season.
84.
The Color of Money
(1986, Directed by Phil Marco and Martin Scorsese)
Fast Eddie is back only this time he has a prodigy that he must train to be the "hustler".
83.
All the Right Moves
(1983, Directed by Michael Chapman)
All Tom Cruise wants to do is get a college scholarship so he can leave the impoverished steel mill town he calls home.
82.
Gridiron Gang
(2006, Directed by Phil Joanou)
Based on a true story see how the "Rock" puts together a prison football team.
81.
Damn! Yankees
(1958, Directed by George Abbott and Stanley Donen)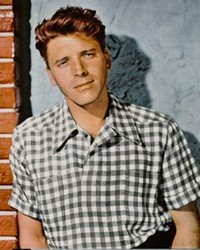 Be careful if you're going to make a deal with the devil as real-estate salesman Joe Boyd did in this classic.
80.
Jim Thorpe, All-American
(1951, Directed by Michael Curtiz)
Considered one of the most versatile athletes in sports, he won Olympic gold medals in the 1912 pentathlon and decathlon, played football at the collegiate and professional levels, and also played professional baseball and basketball.
79.
Resurrecting the Champ
(2007, Directed by Rod Lurie)
Based on a true story about a homeless boxer that once was a contender for the heavyweight championship.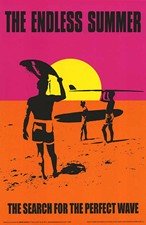 78.
Bend It Like Beckham
(2003, Directed by Gurinder Chadha)
Can girls play soccer? Just watch "Jesse" and then form your own opinion.
77.
One Day in September
(2002, Directed by Kevin MacDonald)
September 1972 at the Olympic Games in Munich, eight terriorists take Israeli athletes hostage. Watch as the German government botches the entire fiasco.
76.
The Endless Summer
(1966, Directed by Bruce Brown)
Surfers travel the world in search of the perfect wave.
75.
The Jackie Robinson Story
(1950, Directed by Alfred E. Green)
Starring Jackie Robinson it tells of his struggles to be accepted in a sport that didn't want him want him.
74.
Rollerball
(1975, Directed by John McTiernan)
A futuristic game where you had to give the ultimate to win, your life.
73.
White Men Can't Jump
(1992, Directed by Ron Shelton)
Woody Harrelson's character is a talented former college-level basketball player who makes a living hustling streetball players who assume he cannot play well because he is white.
72.
Dogtown and Z-Boys
(2002, Directed by Stacy Peralta)
This documentary tells the story of a group of teenage surfer/skateboarders and their influence on the history of skateboarding. Can you say Tony Hawk?
71.
Ali
(2001, Directed by Michael Mann)
Will Smith gives an Academy Award nominated performance as Ali.
70.
The Freshman
(1925, Directed by Fred C. Newmeyer)
The never ending saga of a boy trying to impress a girl by playing football. This comedy is worth watching.
69.
Searching for Bobby Fischer
(1993, Directed by Steven Zaillian)
Film based on the life of prodigy chess player Joshua Waitzkin. Josh Waitzkin's family discovers that he possesses a gift for chess and they seek to nurture it.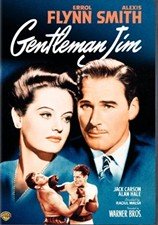 68.
Gentleman Jim
(1942, Directed by Raoul Walsh and Del Frazier)
James "Gentleman Jim" Corbett was a heavyweight boxing champion, best known as the man who defeated the great John L. Sullivan. He has been called the "Father of Modern Boxing" because of his scientific approach and innovations in technique.
67.
The Champ
(1931, Directed by King Vidor)
Nominated for the Academy Award for Best Picture in 1931, The Champ tells the story of a washed up alcoholic boxer who tries to put his life together for the sake of his young son.
66.
The Set-Up
(1949, Directed by Robert Wise)
Stoker Thompson is a 35-year-old has-been boxer. Stoker's manager, is sure he will continue to lose fights, so he takes money for a "dive" from a mobster, but is so sure that Thompson will lose that he doesn't tell the boxer about the set-up.
65.
Finding Forrester
(2000, Directed by Gus Van Sant)
A Pulitzer Prize winning novelist befriends an aspiring writer who is also the basketball teams promise for a state championship.
64.
Rocky II
(1979, Directed by Sylvester Stallone)
The saga continues as Rocky gets a shot at the title against Apollo Greed.
63.
Vision Quest
(1985, Directed by Harold Becker)
A wrestler wants to compete at a weight class that is lower than his normal wrestling weight so that he can wrestle the undefeated state champion.
62.
Rounders
(1998, Directed by John Dahl)
Matt Damon and Edward Norton play big stakes Texas hold-em at all costs.
61.
Jerry Maguire
(1997, Directed by Cameron Crowe)
Tom Cruise tries to rebuild his career while at the same time falling for pretty assistant Renee Zellweger while only having one client, Cuba Gooding Jr. "Show me the money!"
60.
Kingpin
(1996, Directed by Josh Klausner, Peter Farrelly, Bobby Farrelly)
Bill Murray as Ernie McCracken gives an excellent performance as an egotistical womenizing bowling adversary to Woody Harrelson (Roy Munson).
59.
Heaven Can Wait
(1978, Directed by Warren Beatty and Buck Henry)
Joe Pendleton, a backup quarterback, is involved in a terrible collision with a truck. An over-anxious guardian angel plucks Joe out of his body early in the mistaken belief that his death is imminent. The laughs start there.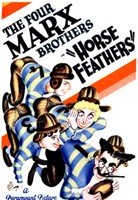 58.
Horse Feathers
(1932, Directed by Norman McLeod)
1932 film starring the Marx Brothers. Groucho, a college president, must recruit a couple of football players for the big game. Chico and Zeppo are the players. very funny.
57.
The Bingo Long Traveling All-Stars & Movie Kings
(1976, Directed by John Badham)
Bingo Long, with a great cast, is a comedic film about a team of enterprising ex-Negro League baseball players in the era of racial segregation.
56.
Bang the Drum Slowly
(1973, Directed by John D. Hancock)
This movie was previously dramatized in 1956 on the U.S. Steel Hour with Paul Newman and Albert Salmi.
55.
Requiem for a Heavyweight
(1962, Directed by Ralph Nelson)
Requiem for a Heavyweight was originally written by Rod Serling and produced for the live television show Playhouse 90 in 1956 and starred Jack Palance. Six years later, it was filmed as a 1962 movie starring Anthony Quinn, Jackie Gleason, and Mickey Rooney.
54.
When We Were Kings
(1996, Directed by Leon Gast)
Is a 1996 documentary film directed by Leon Gast about the famous Rumble in the Jungle heavyweight championship match between Muhammad Ali and George Foreman held in Zaire.
53.
Big Wednesday
(1978, Directed by John Milius)
This film is loosely based on a short story that was first published in a surfer magazine. The picture is abbout three California surfers facing life, the Vietnam War, and use of the ever changing surf as a symbol of life changing.
52.
North Dallas Forty
(1976, Directed by Ted Kotcheff)
Nick Nolte plays the aging wide receiver who is struggling to stay competitive and relies heavily on the use of painkillers.
51.
Bad News Bears
(1976, Directed by Michael Ritchie)
Morris Buttermaker (Walter Matthau), an alcoholic and former minor-league baseball player, becomes the coach of a cellar-dwelling Little League team, the Bears.
The Countdown Continues At #50
50.
Olympia
(1938, Directed by Leni Riefenstahl)
Olympia is a film documenting the 1936 Summer Olympics, held in the Olympic Stadium in Berlin. It was the first documentary film on the Olympic Games ever made.
49.
The Karate Kid
(1984, Directed by John G. Avildsen)
Teenager Daniel LaRusso moves with his mother from New Jersey to the San Fernando Valley region of Los Angeles, California.
48.
The Longest Yard
(1974, Directed by Robert Aldrich)
This football film that is not based on a true story, but it could be. It is about inmates at a prison who play football against their guards.
47.
A League of Their Own
(1992, Directed by Penny Marshall)
Candy-maker Walter Harvey (played by Garry Marshall) decides to create a women's baseball league during World War II.
46.
Hoop Dreams
(1994, Directed by Steve James)
Documentary film that follows the story of two black high school students in Chicago and their dream of becoming professional basketball players.
45.
Goal! The Dream Begins
(2005, Directed by Danny Cannon)
Santiago Munez at night works as a busboy in a Chinese restaurant. He also plays football (soccer) for a small local team and is given a chance to play professionally.
44.
Rebound: The Legend of Earl 'The Goat' Manigault
(1996, Directed by Eriq La Salle )
After high school, Manigault was courted by at least 75 colleges offering scholarships, including North Carolina, Duke and Indiana. Probably the greatest basketball player that you
never
heard of.
43.
Rad
(1986, Directed by Directed by Hal Needham)
Talia Shire (Adrian from Rocky) stars as the mother of a young BMX racer who is faced with racing or taking his college SATs.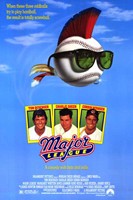 42.
The Stratton Story
(1949, Directed by Sam Wood)
The comeback attempt of a Major League pitcher after he lost his leg in a hunting accident.
41.
Major League
( 1989, Directed by David S. Ward)
A former Las Vegas showgirl inherits the Cleveland Indians baseball team and wants to move the team to Miami. For her to do this she must first void her lease with the city by lowering attendance. Watch as the antics unfold.
40.
The Hurricane
(1999, Directed by Norman Jewison)
The story of boxer Rubin "Hurricane" Carter, whose conviction for a Paterson, New Jersey triple murder was set aside after he had spent almost twenty years in prison. Most likely would have ranked higher on our list but for the criticism of the many inaccuracies by film critics and others, including the families of the murder victims.
39.
Rocky Balboa
(2006, Directed by Sylvester Stallone)
Written and directed by Sylvester Stallone it is the last in the Rocky saga. Or is it? I can envision "The son of Rocky" someday.
38.
The Express
(2008, Directed by Gary Fleder)
The story of Ernie Davis, the first African-American athlete to win football's Heisman Trophy.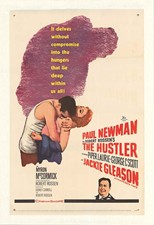 37.
The Sandlot
(1993, Directed by David M. Evans)
Scott Smalls moves to Los Angeles and learns how to play baseball with a rag tag group of boys and encounters the "Beast".
36.
The Rookie
(2002, Directed by John Lee Hancock)
Jim Morris stages a comeback after an injury forced him to give up pitching 12 years earlier. Now coaching a high school baseball team, Jim makes a deal with the team, if the team makes the playoffs, Jim will tryout for a Major League team.
35.
The Hustler
(1961, Directed by Robert Rossen)
A small-time pool hustler "Fast Eddie" Felson and his desire to prove himself the best player in the country by beating legendary pool player "Minnesota Fats."
34.
Victory
(1981 Directed by John Huston)
A film about Allied prisoners of war who are interned in a German prison camp during World War II.
33.
8 Seconds
(1988, Directed by John Avildsen)
Film about rodeo legend and world bull riding champion Lane Frost. The film details his life from his youth learning how to ride bulls, until his death in 1989.
32.
Chariots of Fire
(1981, Directed by Hugh Hudson)
Based on the true story of British athletes preparing for and competing in the 1924 Summer Olympics.
31.
61*
(2001, Directed by Billy Crystal)
Biographical film follows the quest during the 1961 season of New York Yankees sluggers Mickey Mantle and Roger Maris to break Babe Ruth's single-season home run record of 60 set in 1927.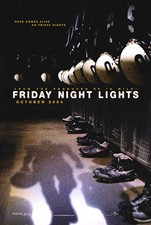 30.
Pride of the Yankees
(1942, Directed by Sam Wood)
Biographical film about the New York Yankees baseball player, first baseman Lou Gehrig, who had his career cut short at 36 years of age when he was stricken with the fatal disease.
29.
Caddyshack
(1980, Directed by Harold Ramis)
Danny Noonan works as a caddy at the upscale Bushwood Country Club, where he earns tips to add to his meager college fund.
28.
Radio
(2003, Directed by Mike Tollin)
Based on the true story of T.L. Hanna High School football coach Harold Jones (Ed Harris) and a mentally-challenged young man James Robert "Radio" Kennedy (Cuba Gooding, Jr.). I love the films that are based on a true story.
27.
Tin Cup
(1996, Directed by Ron Shelton)
235 yards in 12 shots, now that's my kind of golfing.
26.
Friday Night Lights
(2004, Directed by Peter Berg)
Football is BIG in Texas and the Odessa Permian Panthers play in a 19,032 seat stadium. The stadium has been ranked as one of the Top 10 high school venues by USA Today.
The Top 25 Greatest Sports Movies Ever Made
25.
The Long Gray Line
(1955, Directed by John Ford)
True life story of Marty Maher, Tyrone Power stars as the scrappy Irish immigrant whose 50-year career at West Point saw him transformed from dishwasher to non-commissioned officer and athletic instructor.
24.
Slap Shot
( 1977, Directed by George Roy Hill)
A hockey team, which is a perennial loser and in financial trouble due to mill closings in the town, is due to be folded at season's end. Through the course of regular business, the team picks up the Hanson Brothers, violent goons with child-like mentalities.
23.
Invincible
(2006, Directed by Ericson Core)
Vince Papale was a substitute teach and bartender in Philadelphia, who never played college football. In 1976, Philadelphia Eagles head coach Dick Vermeil held open tryouts, and the 30 year old Papale made the team.
22.
The Greatest Game Ever Played
(2005, Directed by Bill Paxton)
Golfer Francis Ouimet, an amateur who was expected to fare poorly at the 1913 U.S. Open, and who was supposedly incapable of competing against professionals, get a chance to play in the U. S. Open.
21.
Eight Men Out
(1988, Directed by John Sayles)
Written and directed by John Sayles, it tewlls the story of Major League Baseball's 1919 Black Sox scandal, in which eight members of the Chicago White Sox conspired with gamblers to intentionally lose the World Series.
20.
National Velvet
(1944, Directed by Clarence Brown)
A 14 year old girl, Velvet Brown (Eliabeth Taylor), rides her horse to victory in the Grand National steeplechase.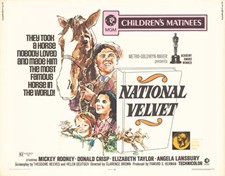 19.
Breaking Away
(1979, Directed by Peter Yates)
Considered one of the "most inspiring" movies by the American Film Institute and in the top ten of their sports genre movies, Breaking Away is on our "must see" list.
18.
The Rocket
(2005, Directed by Charles Biname)
The true story of one of hockey's greatest, Maurice Richard, considered by some as the Babe Ruth of hockey.
17.
Glory Road
(2006, Directed by James Gartner)
True story of the Texas Western College (now the University of Texas at El Paso) National College basketball champions led with an all-black starting lineup, a first in NCAA history.
16.
Coach Carter
(2005, Directed by Thomas Carter)
Based on a true story, in which Richmond High School head basketball coach Ken Carter made headlines in 1999 for locking out his undefeated team due to their poor academic results.
#15
The Legend of Bagger Vance
(2000, Directed by Robert Redford)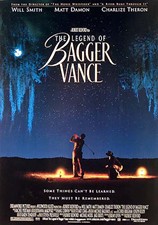 Rannulph Junuh is Savannah, Georgia's favorite son takes on Bobby Jones and Walter Hagen, the best golfers of the era, in a four round two day exhibition match. You gotta love Will Smith in this movie.
The movie is directed by Robert Redford, based on the same-titled 1995 book by Steven Pressfield. The story takes place in the US state of Georgia in 1931. It was also Jack Lemmon's final film before his death in 2001.
#14
Bull Durham
(1988, Directed by Ron Shelton)
"Crash" Davis and "Nuke" LaLoosh, now those are real baseball names.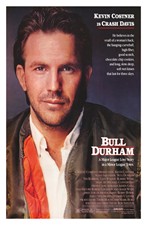 This movie is considered one of the
Best Sports Movies
of all time. Sports Illustrated (in 2003) ranked Bull Durham as the "Greatest Sports Movie". It is ranked number 55 on Bravo's "100 Funniest Movies." It is also ranked #97 on the American Film Institute's "100 Years...100 Laughs" list, and #1 on Rotten Tomatoes' Top Sports Movies list of the 53 best reviewed sports movies of all time. Entertainment Weekly ranked Bull Durham as the fifth best DVD of their Top 30 Sports Movies on DVD. It comes in at #14 on our list of the
Best Sports Movies
ever made.
#13
The Natural
(1984, Directed by Barry Levinson)
Several Major League Baseball players have been nicknamed "The Natural" or "Roy Hobbs" since the production of the movie version in 1984. The first significant player being Will Clark of the San Francisco Giants when he was referred to as "The Natural" starting in his rookie season of 1986.
Shane Spencer of the New York Yankees, earned the moniker "Roy Hobbs" when he hit 10 home runs, three of which were grandslams, in only 67 at bats. The fact that he was a rookie at the age of 26, slightly old for a rookie, contributed to the mythology of Roy Hobbs as he had his Major League debut later in life.
After getting off to a hot start in his rookie season in 2005, Jeff Francoeur appeared on the cover of Sports Illustrated, labeling him "The Natural".
Currently, Josh Hamilton of the Texas Rangers has earned the nickname "The Natural" in reference to the personal obstacles he has had to overcome to make it to the Major Leagues as well as his prolific home run hitting.
#12
We Are Marshall
(2006, Directed by McG)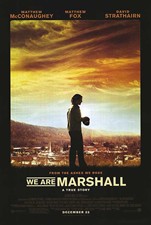 One of the most tragic events in sports history.
On the evening of November 14, 1970, Southern Airways Flight 932, a McDonnell Douglas DC-9 which Huntington, West Virginia's Marshall University chartered to transport the Thundering Herd football team to Greenville, North Carolina via Stallings Field in Kinston, North Carolina and back to Huntington, clipped trees on a ridge just one mile short of the runway at Tri-State Airport in Ceredo, West Virginia and crashed into a gully.
The team was returning from their game against the East Carolina University Pirates — a 17–14 loss. There were no survivors. In all, seventy-five people lost their lives.
The movie depicts the efforts to rebuild the football program at Marshall.
#11
Cinderella Man
(2005, Directed by Ron Howard)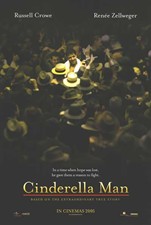 Produced by Ron Howard, Penny Marshall, and Brian Grazer, the film is about an Irish-American boxer who would become the world heavyweight champion.
Based on the life of James J. Braddock, who was known for his powerful right hand punch, strong chin, and his amazing comeback from a floundering career, which saw him lose several bouts before struggling to support his family by working on the docks during the Great Depression, and earned him the nickname "The Cinderella Man" from Damon Runyon.
The Top 10 Greatest Sports Movies of All Time
#10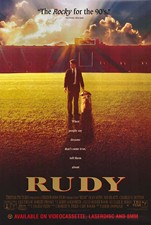 Rudy
(1994, Directed by David Anspaugh)
Rudy is based on the true life story of Daniel "Rudy" Ruettiger who dreamed of playing football for Notre Dame. It was the first movie the Notre Dame administration allowed to be shot on campus since
Knute Rockne, All American
in 1940. In 2005, Rudy was named one of the best 20 sports movies of the previous 25 years in two polls by ESPN (#24 by a panel of sports experts, and #4 by espn.com users). An inspirational film that should be enjoyed with school age children together with their parents. The American Film Institute ranks it as the 54th most inspiring film of all time.
Watch the video of the real
Rudy
in his only game with the Notre Dame Fighting Irish.
#9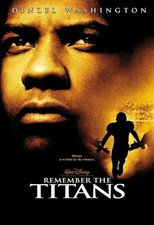 Remember The Titans
(2000, Directed by Boaz Yakin)
In 1971 segragation in southern schools was the norm. For the Virginia high school of TC Williams it was time for busing and desegragation. This included the football team. Black and white players would clash during the training camp as the players had to adjust to something they and the south were not accustomed to. It is through the strong bond of the football team together with their dominance of the opposition on the field that the school and the community would unite and make Alexandria, Virginia a better place to live.
Remember The Titans captures the drama, conflict and emotions of the era through the true story of the 1971 TC Williams Titans football team.
#8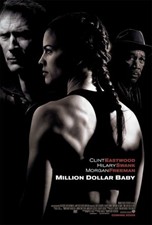 Million Dollar Baby
(2004, Directed by Clint Eastwood)
Million Dollar Baby received the award for Best Picture of 2004 at the 77th Academy Awards. Eastwood was awarded his second Directing Oscar for the film and also received a Best Actor nomination. Swank and Freeman received Best Actress and Best Supporting Actor Oscars, respectively.
The film received highly positive reviews. Roger Ebert gave the film four stars and stated that "Clint Eastwood's Million Dollar Baby is a masterpiece, pure and simple," listing it as the best film of 2004. Michael Medved stated that: "My main objection to Million Dollar Baby always centered on its misleading marketing, and effort by Warner Brothers to sell it as a movie about a female Rocky, with barely a hint of the pitch-dark substance that led Andrew Sarris of the New York Observer to declare that 'no movie in my memory has depressed me more than Million Dollar Baby."
#7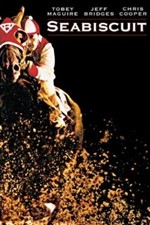 Seabiscuit
(2003, Directed by Gary Ross)
Seabiscuit, undersized, knobby-kneed, and not much to look at, was the grandson of one of the most famous race horses of all time, Man o' War.
On November 1, 1938, Seabiscuit met War Admiral (horse racing's Triple Crown winner) in what was dubbed the "Match of the Century." The event itself, run over 1 and 3/16 miles, was one of the most anticipated sporting events in U.S. history. Trains were run from all over the country to bring fans to the race at the Pimlico Race Track in Baltimore, and the estimated 40,000 at the track were joined by some 40 million listening on the radio.
Thanks to YouTube we have a complete film of the actual race.
Seabiscuit was named "Horse of the Year" for 1938 and is #7 in the Top 100 Best Sports Movies of all time.
#6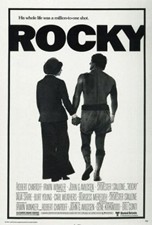 Rocky
(1976, Directed by John Avildsen)
What can you say about Rocky? Sylvester Stallone peddled the script to movie makers but they weren't enthusiastic about him in the lead role. Stallone was virtually an unknown. They wanted someone like Robert Redford or Ryan O'Neal. Burt Reynolds and James Caan were also considered for the role as Rocky.
Well, we all know the outcome of that. Stallone is
Rocky
. Can you see Redford saying, "Yo, Adrian!"?
The movie won three Academy Awards, including Best Picture, and spawned what is now five sequels.
Rocky comes in at a solid #6 at the Best Sports Movies.
As the countdown continues to #1, I had this thought. One could take the Top 10 movies here at Best Sports Movies and put them in a hat and draw the final ten. They are all so great in their own right.
#5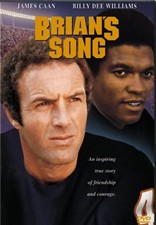 Brian's Song
(1971, Buzz Kulik)
This made for TV movie was based on the book written by Gale Sayers, "I Am Third" and was such a big hit that it was later released in theaters. This movie makes grown men cry. Gayle Sayers and Brian Piccolo shared a special friendship that should make us all envious.
Thirty years after its original airing, a remake was aired in 2001 on ABC's The Wonderful World of Disney starring Mekhi Phifer as Sayers and Sean Maher as Piccolo.
The original, however, is a classic and definitely a must see for any sports fan.
"I love Brian Piccolo and I'd like all of you to love him too. And tonight, when you hit your knees, please ask God to love him."
#4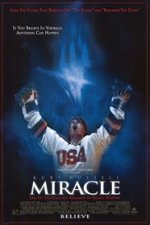 Miracle
(2004, Directed by Gavin O'Connor)
In the 1970's and 80's the U. S. was locked in what was called the "Cold War" with Russia. Russia was the enemy.
As for sports and the Olympic games, Russia always used professional players while the U. S. would only have amateurs competing. The Russian hockey team had made a tour of the U. S. and had beaten some of the best players of the National Hockey League including the New York Rangers.
Hands done, the Russian hockey team would win the gold medal. Everyone else was competing for the silver and bronze medals. Or where they?
This movie depicts what has been voted as the best sports moment of the last century. Watch as the
Miracle
unfolds and a collective cheer across the country resounds.
#3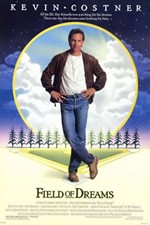 Field of Dreams
(1989, Directed by Phil Alden Robinson)
Ever been to Dyersville, Iowa? Not exactly on the tourist top ten places to spend a vacation or even a day trip. Well, baseball fans are making the pilgimage there now. It has turned into a "must visit" place for ball fans now.
I made the trip from Lansing, Kansas to the Field of Dreams back in the summer of 1990. I just had to see it. Back then there was a conflict with one of the cornfield owners and the field didn't extend much beyond shortstop. You see, the field was actually built on two different properties. One property owner, the one with the house and everything just inside leftfield, was making all the money off the "Field". Souveniers, donations and publicity.
It looks as if they have everything worked out now as the website shows pretty much the whole "Field" intact like we know it from the movie.
It's definitely a trip worth making if you're anywhere in the vicinity of Iowa. I still have my souvineir "Field of Dreams" t-shirt from my visit some nineteen years ago.
#2
Hoosiers
(1986, Directed by David Anspaugh)
Hoosiers is inspired by the true story of the 1954 Milan High School basketball team that won the Indiana State Championship.
Milan was a very small high school in a rural, southern Indiana town. One of the teams that Milan beat on its way to the title was led by basketball great Oscar Robertson.
Gene Hackman stars as Norman Dale, a new coach with a spotty past. It co-stars Barbara Hershey, Sheb Wooley and Dennis Hopper as a basketball-loving town drunkard, a performance that brought Hopper an Oscar nomination.
And the Best Sports Movie of all time is
#1
Hoosiers (1986, Directed by David Anspaugh)

Hoosiers is inspired by the truee story of the 1954 Milan High School basketball team that won the Indiana State Championship.

Milan was a very small high school in a rural, southern Indiana town. One of the teams that Milan beat on its way to the title was led by basketball great Oscar Robertson.

Gene Hackman stars as Norman Dale, a new coach with a spotty past. It co-stars Barbara Hershey, Sheb Wooley and Dennis Hopper as a basketball-loving town drunkard, a performance that brought Hopper an Oscar nomination.

2. Hoosiers (1986, Directed by David Anspaugh)

1. Raging Bull (1980, Directed by Martin Scorsese)


Well that is our list of the best sports movies ever made. Share your list with the world at
Here is MY List of the Best Sports Movies
.
Return from the Top 100 Sports Movies to Best Sports Movies